One of the most often asked questions about Medi-Cal benefits is this: What is covered by Medi-Cal? Also, What does full coverage Medi-Cal cover? Does coverage include Dental Benefits, Vision, Long Term Care, and Transportation? If you need answers to these questions and more, we can help.
In this post, we will provide details about what Medi-Cal covers, who is eligible, and what it covers, plus answer the most frequently asked questions.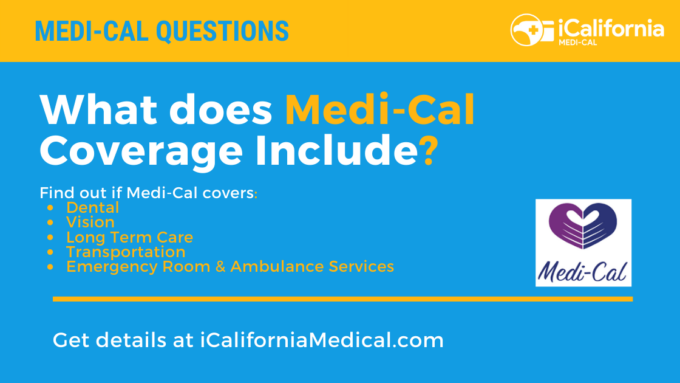 What is Medi-Cal
Medi-Cal is California's Medicaid public health insurance program. Medi-Cal provides free or low-cost medical services for children and adults with limited income (and limited resources for some Medi-Cal programs).
The program is supported by federal and state taxes.
Effective January 1, 2014, the Affordable Care Act (ACA) expanded Medi-Cal coverage to previously ineligible adults (childless, non-disabled, non-elderly).
California Medi-Cal Eligibility
There are three ways you can qualify for Medi-Cal:
First, you can qualify if you meet the income limits.
To see if you qualify based on income, look at the chart below. Income numbers are based on your monthly or yearly earnings.
Second, you can also get Medi-Cal if you are:
65 or older
Blind
Disabled
Under 21
Pregnant
In a skilled nursing or intermediate care home
On refugee status for a limited time, depending on how long you have been in the United States
A parent or caretaker relative of an age-eligible child
Additionally, there are special Medi-Cal programs for individuals who:
Have been screened for breast and/or cervical cancer (Breast and Cervical Cancer Treatment Program)
Have tuberculosis (for citizens and documented non-citizens only)
Receives Medicare (for payment of the Medicare premium)
Are minors in need of confidential treatment for drug and/or alcohol abuse, sexually transmitted diseases, sexual abuse, pregnancy, family planning, or mental illness
Have had an organ transplant in the previous two years and need anti-rejection medication
Third, if you are enrolled in one of the following programs, you can also get Medi-Cal:
CalFresh
SSI/SSP
CalWorks (AFDC)
Refugee Assistance
Foster Care or Adoption Assistance Program
How do I apply for Medi‑Cal?
There are three ways to apply for Medi-Cal:
Online: It takes about 30 minutes to sign up for Medi-Cal online through Covered California.
In-person: You can enroll in person at a County Social Services Office. Additionally, California has hundreds of Medi-Cal enrollment centers and thousands of certified enrollers ready to help you apply for Medicaid.
Over the phone: You can request a phone call from an enroller to get free advice and apply for Medi-Cal over the phone or call 1‑800‑300‑1506.
For information on how to apply for Medi‑Cal, you can go to www.coveredca.com, view a list of county offices, or call 1‑800‑300‑1506.
What Medi-Cal Covers
The Medi-Cal program offers many covered benefits to members, including:
Most doctor visits with contracted providers for covered benefit services
Preventive care and immunizations
Prescriptions
Hospital stays
Emergency services, including ambulance
Family planning
OB-GYN services and pregnancy care
Lab and x-ray services
Health education
Vision care (some restrictions apply, available through VSP)
Dental care (available through Denti-Cal)
Behavioral health (mental health and substance abuse) services
Transportation to medical appointments
Long-term services and supports (LTSS), including long-term care in a nursing facility, Community-Based Adult Services (CBAS), In-Home Supportive Services (IHSS), and Multipurpose Senior Services Program (MSSP).
What is Covered by Medi-Cal (by Category)
Below are details of what Medi-Cal covers by category:
Medi-Cal benefits may include:
Medical care
Primary care doctor, wellness, and specialist visits
Immunizations
Hospital and emergency services
Family planning, maternity, and newborn care
Laboratory services
Medications
Physical and occupational therapy
Disease and condition management
Mental health and substance use disorder services
Individual, Family, and group Mental Health services for mild/moderate conditions
Behavioral Health treatment for youth under 21
Substance misuse screening and counseling
Care management for higher levels of mental health care
Vision care
Routine eye exams
Eyeglasses or contact lenses
Dental care
Dental benefits are available to Medi-Cal members who qualify through Denti-Cal program provided by the Department of Health Care Services (DHCS).
Long-term care services and support
Community-based adult services
In-home supportive services
Multi-purpose senior services
Long-term care
Medical supplies and durable medical equipment
Transportation services
Emergency transportation
Non-emergency medical transportation
Non-medical transportation
Medi-Cal Coverage FAQs
Here are the most frequently asked questions about Medi-Cal coverage:
What is the California IHSS Program?
IHSS stands for In-Home Supportive Services.  It is a program that provides those with limited income who are disabled, blind, or over the age of 65 with in-home care services to help them remain safely at home.
It is a statewide program in the state of California administered by each county under the direction of the California Department of Social Services.
The IHSS program provides non-medical assistance services.
It is considered an alternative to out-of-home care, such as nursing homes or board and care facilities.
What services are covered under IHSS?
IHSS chores are assessed according to the needs of the individual. They may include, but are not limited to:
Housekeeping
Grocery shopping
Meal preparation and clean up
Transportation to medical appointments
Spoon feeding
Help with breathing equipment
Toileting or incontinence-related needs
Bathing and hygiene tasks
Dressing assistance
Medication management
Tooth, nail, and hair care
Will Medi-Cal pay for transportation?
Yes. If you're covered by a Medi-Cal plan, your benefits include free transportation to and from health care appointments.
To qualify, you must have no other way to get to the appointment.
You will have to attest to your Managed Care Provider that you have exhausted all options for getting transportation to and from your appointment.
What Medi-Cal Covers Summary
We hope this post on what Medi-Cal Covers was helpful.
Questions?
If you have further questions about Medi-Cal, please let us know in the comments section below.
Be sure to check out our other articles about Medi-Cal and California Medicaid program, including: